Two adults held on suspicion of murder of boys, 13 and 14, as others taken to hospitalJosh Halliday North of England correspondent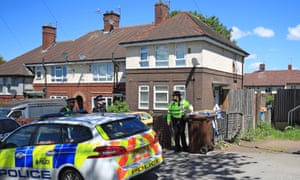 Two teenage boys have died and four other children are receiving hospital treatment after a "serious incident" in Sheffield, police said.
Officers were called to a house in the Shiregreen area of the city at 7.30am on Friday.
South Yorkshire police said the boys, aged 13 and 14, had died and the other children, aged 11, 10, three, and seven months, were conscious in hospital.
The boys' cause of death has not yet been established. Police said postmortem examinations were due to take place later on Friday.
The force said a man, 37, and a woman, 34, had been arrested on suspicion of murder and remained in custody. Police said they were not looking for anyone else in connection with the deaths.
Speaking at the scene, Supt Paul McCurry said the four children in hospital were not in a life-threatening condition.
He said: "They are conscious. They are being given the necessary care that they need. And they will be in hospital for certainly the next few hours.
"I am aware of wider speculation regarding the use of weapons. At the moment there is no wider risk to the community in Sheffield."
DCI Simon Palmer said detectives and specialist officers were carrying out inquiries in the area and working to ascertain what happened.
"I appreciate the events of this morning have caused concern locally but I'd like to reassure you that there is no wider risk to the community," he said. "We will be providing regular updates when we are able to. If anyone does have concerns, please do not hesitate to speak to an officer in the area.
"To allow the investigation to progress, I would please ask that people are mindful of what they are posting on social media and the potential distress this may cause."
Neighbours described how the residential street, about six miles north of the city centre, was full of police cars and paramedics early on Friday morning.
The semi-detached house where the incident took place is 100 metres from a primary school, where the air ambulance landed in a playground.
The Labour MP Gill Furness, whose Sheffield constituency includes Shiregreen, said she was "deeply saddened" by the incident. "My deepest sympathies are with the loved ones of the children who have lost their lives and also with those who are currently in the care of Sheffield children's hospital," she said.
"Shiregreen is a strong community but I know the whole area is deeply shaken by what has happened here."
Resident Aaron Brunskill said people came out into the street at 8am to find about 15 police cars and four ambulances. He said: "The police weren't telling us anything. I know there's children there. I've just seen them walking back to the shops and that's all I know.
"Everyone speaking on the road said the first one out had to be resuscitated in the ambulance and it was a pretty serious incident. There were four ambulances. Everyone got took away in an ambulance."