A Nigerian man, Imasaun Henry Omorogby, and his Indian girlfriend, Sheela Dey, have been arrested for allegedly duping people on the pretext of providing them jobs abroad, according to a report by the Indian police on Saturday, August 18. A police officer who spoke to the press said: "Imasaun Henry Omorogby from Nigeria and his girlfriend Sheela Dey from Hyderabad were running a scam using fake bank accounts and data from various websites to lure people on the pretext of providing them employment.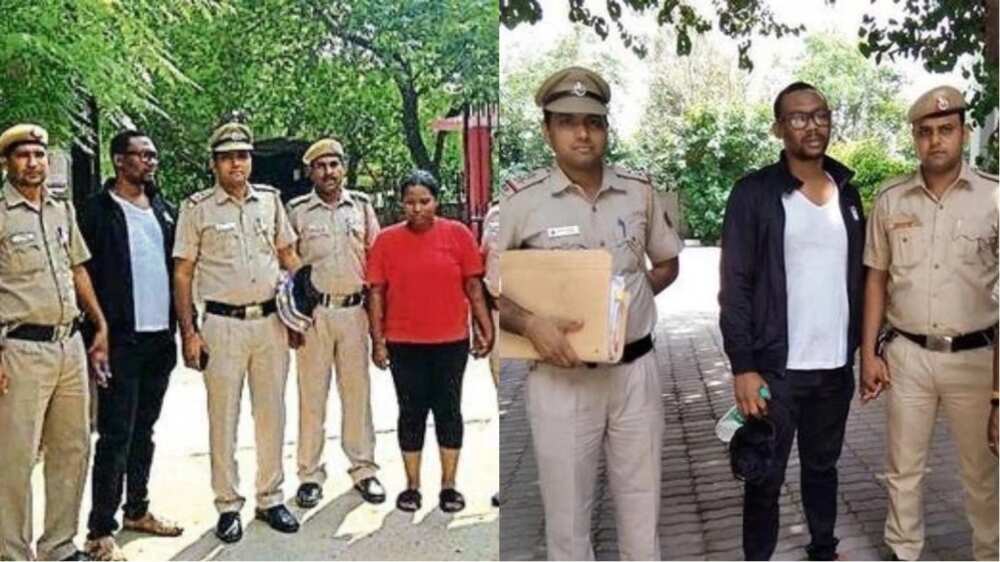 " India's national daily, The Hindu, reported that a woman had filed a complaint last year stating that on September 2017 she had received an e-mail for a job as logistics operation manager in an oil and gas company based in Malaysia, to which she responded with CV and particulars, the police said.She was then asked to deposit Rs. 8 lakh in a bank account for formalities. After depositing the money, she did not get an offer letter.
Omorogby, his girlfriend, Sheela, and the police. The Hindu Claiming to be calling on behalf of the Ministry of Finance, Delhi, the accused again demanded Rs. 65,000 from her for releasing the documents, the police said. The complainant then suspected foul play and went to verify the facts from the Ministry which were then found to be fake, the police said. During the investigation, the accused's bank details were tracked, IP address of e-mail IDs was scanned and the Facebook link of the suspect was put under the scanner. The photographs uploaded on Facebook were matched with the photographs on the account opening form, the police said, adding that the suspect remained untraceable. "On 8 August, the suspect, Sheela, updated a status on Facebook — GOING BANGKOK — along with a picture of Rajiv Gandhi International Airport, Hyderabad. The special team immediately reached Hyderabad airport and procured the passenger's departure and arrival details. She was then detained on August 14 soon after her arrival," said a police officer. The accused's boyfriend was also detained from the airport for his involvement in the crime, he added.
Their modus operandi was to send emails to job seekers regarding employment opportunities outside India, he added. After gaining the confidence of the victims with attractive job offers, the accused asked them for money on the pretext of visa processing, work permit application, immigration and travel expenses. Following this, the victims would deposit money in the account number provided by the accused, the police said. Then, the accused would flee with the money, they added. Legit.ng earlier reported that officers from the Directorate of Criminal Investigations (DCI) in Nairobi, the headquarters of Kenya, on Saturday, August 18, arrested suspected 19 Nigerian nationals believed to be behind online fraud in the city. The suspects were reported to be using social media to defraud unsuspecting Kenyans. The EFCC stage a walk against corruption.
Indian Politician With 9 Family Members, Breaks Down In Tears After Getting 5 Votes (Video)