As people struggle to seek help with their mental health, Lady Gaga is calling on everyone to be kind.
The songstress spoke on the topic while presenting her mother, Cynthia Germanotta, with the Global Changemakers Award at Children Mending Hearts' Empathy Rocks fundraiser on Sunday.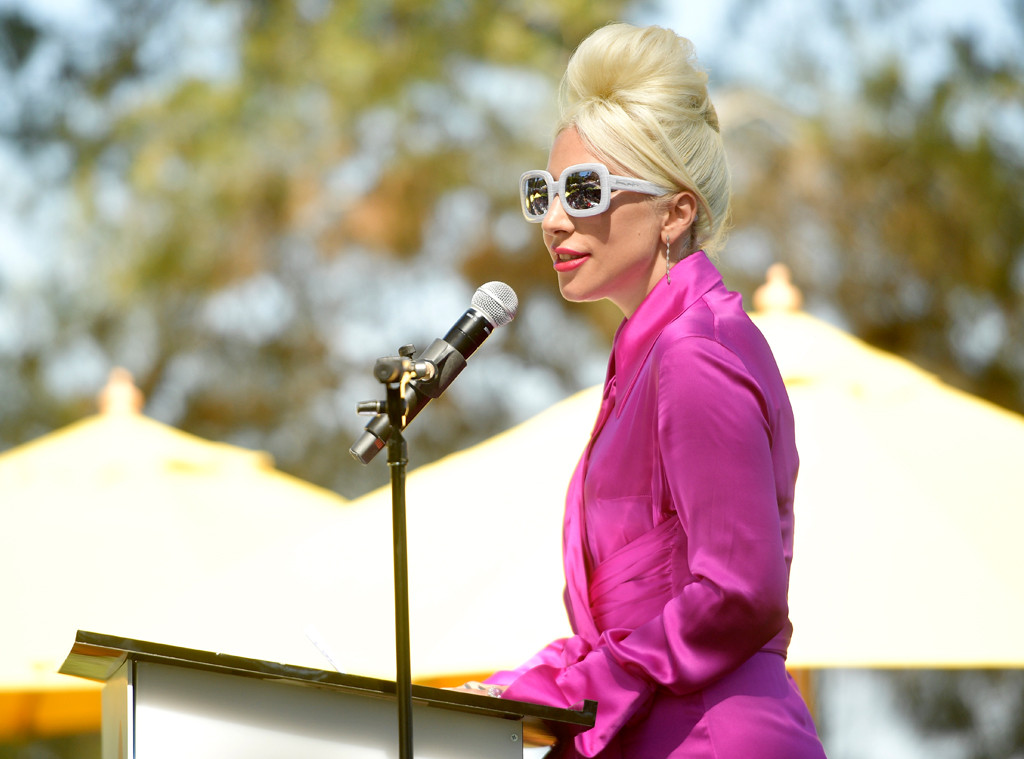 As she and her mother were being recognized for the work of their joint Born This Way Foundation, the triple threat took her moment at the microphone to address themes of mental health, mental illness and suicide, particularly in light of Kate Spade and Anthony Bourdain's deaths earlier in the week, and how the empathy of others can help ease the process for those scared to speak up. It is empathy and kindness that the mother-daughter duo are working to encourage through their foundation.
"We bring people together to have real, honest conversations and to be kind," Gaga began, explaining the objective of their organization. "Kindness is not an afterthought to our work. It is the driving power for everything we do. It is the lens we view every challenge through. It is framing the way we put everything around every possible solution. To me, almost every problem you can think of can be solved with kindness. Atleast it could be made better. Kindness has a soft undertone. Sometimes people think it is weak. It is tremendously powerful. It can change the way that we view each other. The way that we view our communities and the way that we work. Even the way that we feel about ourselves, by being kinder to ourselves. We need more kindness in the world."
As her remarks continued, she reflected on the words of her friend, Breedlove, who recently shared a message about his own mental illness and suicidal thoughts online."I can't remain silent any longer. The passing of Kate Spade and Anthony Bourdain has made me want to speak up about my mental illness. I have been experiencing suicidal ideation and cyclical obsessive suicidal thoughts for the past four years," she read out loud, quoting her friend's letter. "At first, I thought I was alone and a bad person, but once I was brave enough to tell my friends and family—tould they just think I was looking for attention? Would I be immediately hospitalized against my will? I was able to be honest with my psychiatrist. The honesty was met with genuine love and concern and loads of support from my mental health team. I began to meet others like me.I know I am lucky to have support like this, but there is so much help out there if you have the courage to be honest with yourself and others about what you are going through."
Lady Gaga was candid about her own struggle to be forthcoming about her mental health challenges, telling the audience, "I have struggled for a long time, both being public and not public about my mental health issues or my mental illness. But, I truly believe that secrets keep you sick."The star explained that through the empathy of others, she finds courage within herself. "I realize that it's actually safer to say how I feel. What Children Mending Hearts is doing today rocks because it's safer for others who feel like me," she said.As the songstress concluded her speech, she acknowledged her beloved mother and urged everyone to be kind for the sake of anyone and everyone struggling. "Thank you Mom for not being afraid of my darkest thoughts and for doing what many don't realize goes very far: just holding my hand and running an organization that helps hold the hands of others and join the hands of others. I love you," she told Germanotta. "Suicidal ideation feels like a spell and we have to have empathy. Be kind and help each other break that spell and live and thrive."