Around 7:30 a.m., producer, Harvey Weinstein surrendered to authorities at the New York Police Department's 1st Precinct, where was fingerprinted and photographed. Just before 8:30 a.m., he was charged with rape, a criminal sex act, sex abuse and sexual misconduct for incidents involving two separate women. "The NYPD thanks these brave survivors for their courage to come forward and seek justice," a spokesperson said. "The arrest and ensuing charges are the result of a joint investigation between the NYPD and the Manhattan District Attorney's Office." He was transported to New York County Criminal Court at 8:55 a.m.; two sources told NBC News he is expected to be released on $1 million bail and required to wear an ankle monitor.
A smiling Weinstein, wearing a blue sweater and a black blazer, ignored reporters' questions when he first showed up to turn himself in. He was seen carrying three books, including Elia Kazan: A Biography and Something Wonderful: Rodgers and Hammerstein's Broadway Revolution.
Twin exposés, from The New York Times' Jodi Kantor and Megan Twohey and from The New Yorker's Ronan Farrow, helped many of his accusers tell their story on the record for the first time. Nearly 100 women have since accused Weinstein of sexual harassment—and, in some cases, rape. The once untouchable Weinstein, through his legal team, has denied all allegations.
Rose McGowan, who reached a $100,000 settlement with Weinstein related to an encounter in 1997, issued a statement about the news Thursday, after it was first reported he would be turning himself in to authorities. "I, and so many of Harvey Weinstein's survivors, had given up hope that our rapist would be held accountable by law. Twenty years ago, I swore that I would right this wrong," she said. "Today we are one step closer to justice. We were young women who were assaulted by Weinstein and later terrorized by his vast network of complicity."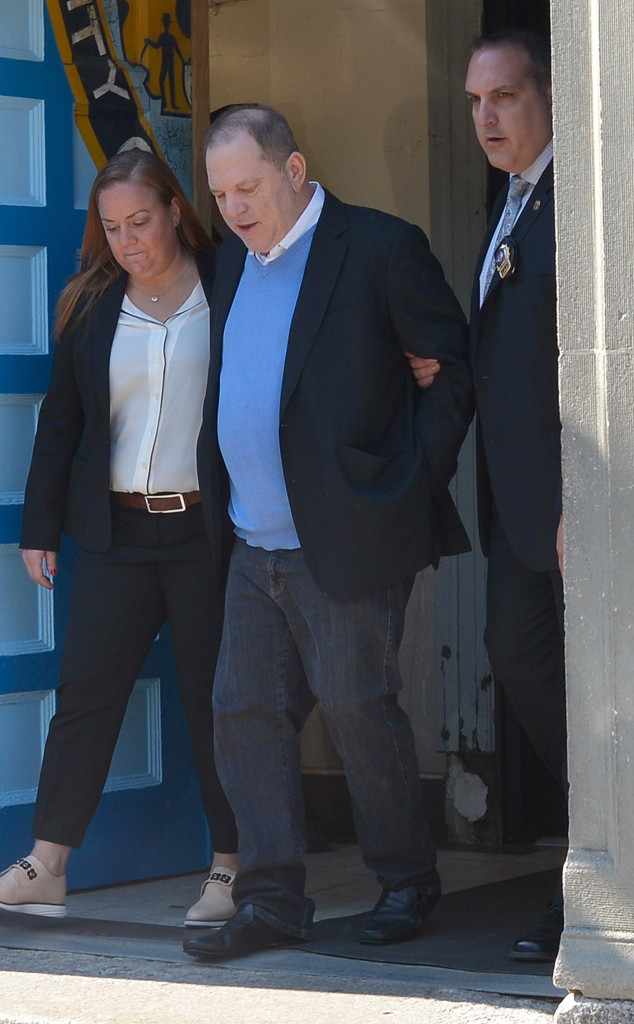 "I stand with my fellow survivors," added McGowan, who spoke with Farrow for his initial article. "May this give hope to all victims and survivors everywhere that are telling their truths."
Some of Weinstein's more prominent accusers include Rosanna Arquette, Salma Hayek, Angelina Jolie, Ashley Judd, Lupita Nyong'o, Gwyneth Paltrow, Mira Sorvino and Uma Thurman. "Today Harvey Weinstein will take his first step on his inevitable descent to hell," Asia Argento, another accuser, tweeted. "We, the women, finally have real hope for justice."
"To see him in cuffs on his way out—whether he smiled or not—that's a very good feeling," McGowan said on Megyn Kelly TODAY, just after he was transported to New York County Criminal Court. After feeling gaslighted, she admitted, "I didn't believe this day would come…"
The New York Times and The New York Daily News reported Thursday that the case would likely involve allegations that Weinstein had pressured Lucia Evans to perform oral sex during an audition in 2004; forcible oral sex is considered a Class B felony in New York State, with a maximum sentence of 25 years in prison, and that particular crime has no statute of limitations.
Weinstein's attorney, Ben Brafman, declined to comment Thursday. In a court declaration earlier this month, he wrote, "Mr. Weinstein is currently in treatment for personal issues in the hope of becoming a better person and one day soon hopefully restoring his life and again continuing the pursuit of the extraordinary charity that he has always engaged in. Weinstein vigorously denies ever engaging in criminal sexual misconduct and if given the opportunity to fully defend himself, he believes that all of these allegations will be shown to be without merit."
Five days after the first report about Weinstein came out, Marchesa's Georgina Chapman, his wife of nearly 10 years, left him. The couple's divorce was finalized a few months later, and Chapman—who has two children with him—received a reported settlement of $15-20 million.
As Chapman later told Vogue, "I had what I thought was a very happy marriage." The fashion designer insisted she was "never" suspicious about his behavior, calling him a "confidante," a "friend, a "supporter" and a "wonderful partner." But as more women made claims against him, she realized, "There was a part of me that was terribly naïve—clearly, so naïve. I have moments of rage. I have moments of confusion. I have moments of disbelief!" Feeling "broken" and "humiliated," she fled to London with her children. "It's still so very, very raw. I was walking up the stairs the other day and I stopped; it was like all the air had been punched out of my lungs."
After the accusations against Weinstein were first published in October 2017, thousands of people felt empowered to share their own stories through the #MeToo movement on social media. Three months later, Hollywood's biggest stars banded together to launch Time's Up, with an intent to prevent further sexual assault, harassment and inequality in the workplace.