According to a local Jamaican newspaper, The Gleaner, there is no secret formula to Brown's long life. "Really and truly, when people ask what me eat and drink to live so long, I say to them that I eat everything, except pork and chicken, and I don't drink rum and them things," Brown told The Gleaner.
Raised Christian, she has been a music teacher and church organist for over 80 years. After her husband's death in 1997, she took over his responsibilities and became a record-keeper for the local cemetery, a job she continued well after her 100th birthday.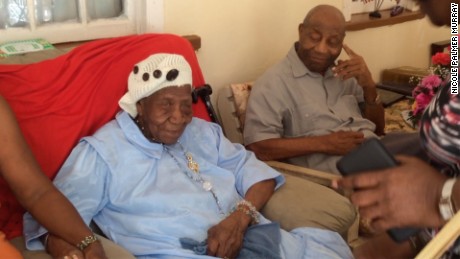 At 117, Brown has witnessed a lot of history's milestones. She remembers when the first cars and planes came to Jamaica, as well as the first electricity and piped water. She has lived through both world wars and the founding of her country. She's also the last living subject of Queen Victoria.
Brown's granddaughter, Lelieth Palmer, and great-granddaughter, Nicole Palmer Murray, founded the Violet Moss Foundation to help care for the elderly. "She continues to be very hard-working, even now," Palmer said. Palmer Murray said Brown is happily living in Duanvale, Jamaica where her family has lived for 200 years and is doing well.
Brown became the world's oldest living person on Saturday after the death of 117-year-old Emma Morano. Guinness World Records officially confirmed Morano as the last living person to have been born in the 1800s.
Watch Video here