Men of the Nigeria Police had to be called in to quell a fight that broke out in new Panteka Market along the Nnamdi Azikiwe bypass in Kaduna State when an Igbo trader identified as Ebere, allegedly named his new dog mohammed.
Daily Trust reports that the fight which could have turned bloody, was ignited when Ebere who deals on spare parts in the market, decided to name his dog Muhammad after another trader by the name had earlier called his own dog Ebere despite several warnings by the Igbo trader for Muhammad to change the name of his dog.
An eyewitness who identified himself as Aminu Ibrahim, said Muhammad was actually the cause of the trouble since he had named his own dog Ebere and the Igbo trader only retaliated to spite Muhammad.
"Since Muhammad named the dog after the trader (Ebere), the trader had warned him on several occasions to rename the dog, but Muhammad refused.
In retaliation, the Igbo trader, Ebere, also bought a dog and named it Muhammad; this is when all hell was let loose," Ibrahim said.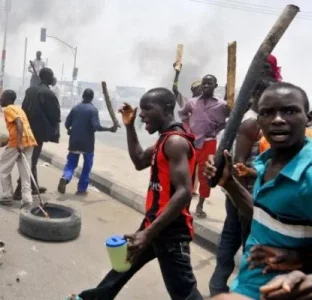 He added that the fight that erupted was between the Hausa and Igbo traders in the market famed for being one of the biggest spare parts market in the northern parts of the country, which led to its closure by the police.
It was gathered that though calm has returned to the market, the police have continued to maintain surveillance to avert further skirmishes.