At least one person died and eight are in hospital after a van slammed into a crowd of worshipers near a mosque in Finsbury Park, north London, just after midnight Monday morning.
A 48-year-old man was arrested at the scene, according to London Metropolitan police. In a statement Monday, London Mayor Sadiq Khan called the incident a "horrific terror attack."
"We don't yet know the full details, but this was clearly a deliberate attack on innocent Londoners, many of whom were finishing prayers during the holy month of Ramadan," Khan said.
Witnesses told CNN they saw a van driving at high speed along Seven Sisters Road.
Abdikadir Warfa, who was on the street at the time, said the van turned into an alleyway and hit a number of people before coming to a stop. Images from the scene show a white van wedged against a traffic barrier at the end of a dead-end street.
"I saw a man, he was underneath the van," Warfa said, who described how his friends tried to lift the van to free him.
Warfa said many of the people in the street were worshipers who'd been attending late-night taraweeh prayers at Finsbury Park Mosque.
He said as he attended the injured, others grappled with the driver as he tried to run away.
"The man tried to escape. My friends told me there were two other guys with him but they caught the driver," said Warfa.
Ratib Al-Sulaman told CNN he was sitting with friends two minutes away, when an "incident in front of the mosque" occurred.
"Some big van … crushing the people in the mosque. So we just run straight away, I see police, ambulance, people lying on the floor, and a van as well," said Al-Sulaman. "There was three people in the van. One has been arrested and two ran away," he added.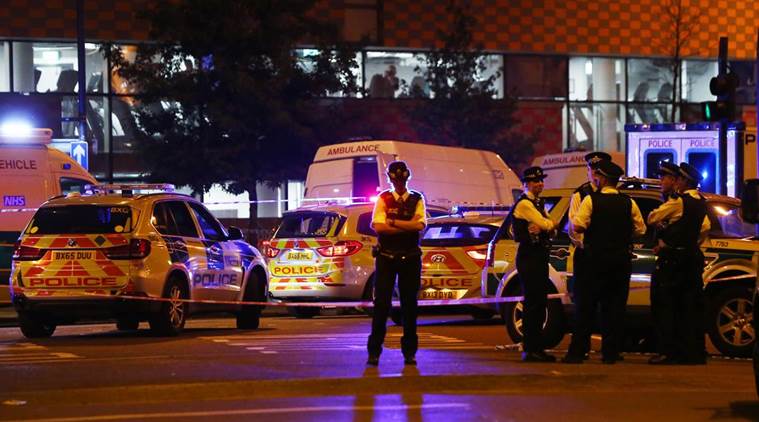 Witness Saeed Hashi described how he fought with the driver as he waited for police to arrive. "We stopped the guy and we put him on the floor and people managed to call police," Hashi said, showing CNN his bruises. "He punched me in the head."
Hashi was one of three people who held the suspect on the ground for 10 minutes. "He was really shouting and aggressive … he was just spitting on us," Hashi said.
Witnesses described seeing between eight to 10 people lying on the ground near to the Muslim Welfare House on Seven Sisters Road.
"I saw something that was horrendous, something we should not see the in the 21st Century, something we should not see in the last 10 days of Ramadan," said Mohammed Abdul. "It's something we should not see. Tomorrow when I come to the mosque I'll be looking over my shoulder because two guys are still out there," he added.
"He (the driver) wasn't drunk or anything … I know this is deliberate. This is a terrorist attack," said Abdul.
London (CNN).